While most declarations in TSS are submitted without any issues, sometimes you may receive error messages. Most commonly, declaration errors occur because information on your declaration is missing, invalid or incorrectly formatted/entered. TSS provides support at each step of the error resolution process. 
Identify that an issue has occurred
You will be alerted to an issue with your declaration through an email informing you that your declaration has gone into 'Trader Input Required' status. Your declaration will appear in the 'Input Required'

section of the declaration page and the '

Error Message'

field will be populated.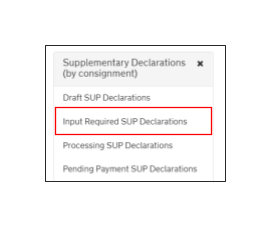 Identify what the issue is
First check the email you received. For many error types, this email will contain detailed information about what has gone wrong and where you need to fix something on your declaration.
You should also check the error message on the declaration. The message will give you information about what has gone wrong.

This video

gives an introduction on how to interpret error messages. 

Update or correct the information on your declaration
Navigate to the relevant part of the declaration and the data field causing the error. Review the

data guide

or relevant declaration guide (e.g.

Supplementary Declaration guide

) on

NICTA

for the requirements for each data field on the TSS Portal. You can also have a look at the

dedicated error support page

, with links to guides on how to resolve the most common error types. 

Reach out for support if needed
If you have any issues, reach out to the

TSS Contact Centre

on 0800 060 8888 or select the 'Get Help' button on your declaration. Trained agents can talk you through how to resolve any errors.
TSS also provides support to help you prevent errors before they occur. This includes:
Pop-up messages on the portal, which can warn you if your data is incorrect when you try to submit

Light blue boxes below data fields, which provide quick tips on how to accurately fill in your declaration

The

required information

box at the bottom of each page, which highlights missing mandatory information

The

Tariff Requirements

box on the goods item page, which will highlight any specific declaration requirements for your commodity code 
If you need more support or have any questions on declaration errors, please contact the TSS Contact Centre on 0800 060 8888.